It's here!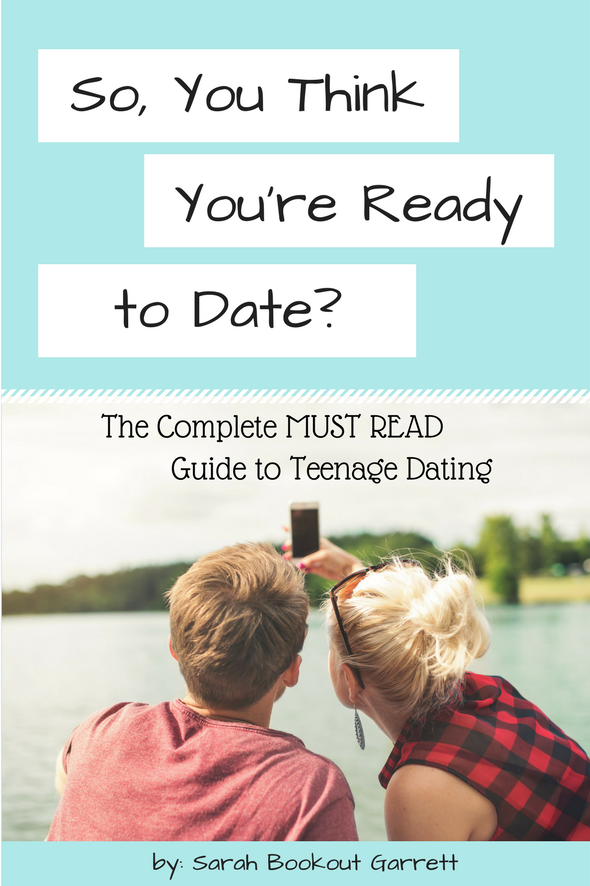 *all links on this page that lead to the book are Amazon Affiliate links*

Book Trailer
Why this Book?
Because there's nothing else like it! Teenage dating proves a new and exciting experience, yet can tragically bring pain and emotional damage if you try to figure it out as you go. This book lays the groundwork for teenage dating from a Biblical perspective. Its quizzes, questionnaires, stories, Biblical truths, and real life anecdotes answer questions teen girls have about dating and discuss relevant topics.
Check out the Table of Contents below: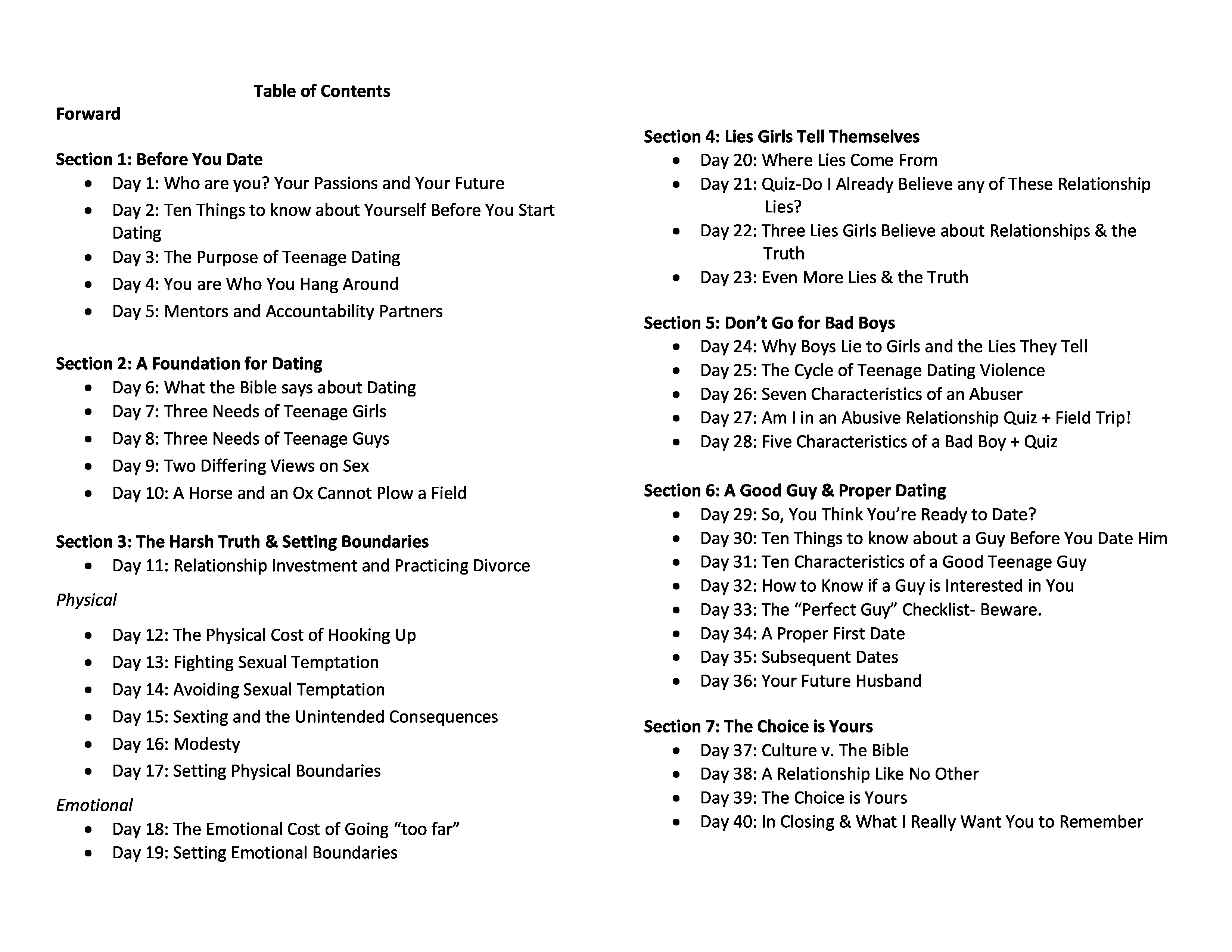 This book is formatted in a 40 day "devotional" format. Each day discusses a different pertinent topic and builds on previous concepts.  Most every day also concludes with room for reflection and closing prayer. Below is Day 1:

Testimonials
FREE Youth Pastor/Parent Guide
This book comes with a free Youth Pastor/Parent Resource Guide. It has guiding questions to help you have a conversation with your teen(s) if the subject of dating makes you uncomfortable or you simply don't know how to guide the conversation. To access it, click here, and join our weekly newsletter. You will be sent the password for our free resource library and the guide is in it!

Want to talk to your teen about dating? Click here for help!
Click To Tweet
How to Order
Click below to order from Amazon.com!

If you prefer not to purchase the book from Amazon, you can purchase it from here as well!
Any questions?
More about the Author & Our Ministry
A note from the author:
In the video below, I'm the one on the right :)! From an early age, I have been intrigued by relationships. I remember being around 12 years old and reading the relationship/marriage articles in my mom's "Redbook" magazine that she subscribed to for a few years.  Over the years, I have continued to read many, many books and hundreds of articles on dating and marriage relationships.
At 19, I began working with teenage middle school students at a summer day camp and LOVED IT. I knew then that I would work with teenagers in some capacity for years to come. After graduating college, I started teaching English to freshman in high school.
After working with teenagers for a decade, I consistently witnessed the unnecessary heartbreak that comes when teenagers engage in romantic relationships too early and unprepared. After a few years in the classroom, I made it a point to start teaching the "concepts" of teenage dating to the youth group at my church three years ago and have continued from there. After garnering more knowledge and researching, I finally decided to put pen to paper and write this book to hopefully reach a broader audience.
It has been a labor of love. I don't want to see one more teenager hurt from simply not having a solid Biblical foundation for dating. I hope you will buy this book for yourself, your teen, your youth group, or special teens in your life!
-Sarah
Want to stay up to date?
We would love for you to join our weekly newsletter and follow us on social media! Our newsletter gives behind the scenes looks at what is going on, encouragement, and what's been posted for the week. Signing up also gives you access to our library of free resources. You can gain access to it all by clicking here or the picture below.

Social Media: There's a lot of negativity in the social media realm and we like to throw in positivity and encouragement! We would love for you to follow us on any (or all!) of these outlets: Instagram,  Twitter,  Facebook,  Pinterest, and YouTube.
LOVE TO ALL,
-Sarah & Susan
Want answers about teenage dating? Click here and snag this book!
Click To Tweet