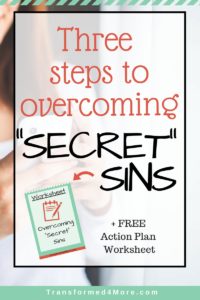 Amber listened intensely for her parents to click off their bedroom light. "Finally," she exhaled, "they're asleep." She waited another 10 minutes, then snuck downstairs to where her parents kept the alcohol. She quietly opened the cabinet, opened a bottle, and took a swigs. Amber had been doing this for months; however, lately she noticed that she wanted more. She knew if she did more her parents would start to notice and she couldn't risk that. "Why can't I just quit?"
Courtney watched her sister's car pull out of the driveway. She knew she had to be quick, so she ran upstairs to the bathroom, closed the door, took out her cell phone, pulled off her top, and began taking provocative pictures to send her boyfriend. She knew she looked hot, but deep down felt like this wasn't the right way to make their relationship grow.
These girls are struggling with "secret" sins; sins hidden from others that they struggle with silently. There are other sins besides alcohol and sexting. You could be struggling with porn, drugs, smoking, lying, disobeying your parents, lust, or any number of things you feel that you and the person you engage in the activity with know.
Sometimes you know you need to stop, you're just not sure how. In today's blog, we'll discuss three ways to overcome these sins, find forgiveness, and get your life back on track. At the end there is an action plan worksheet you can print off that will help you do this! Let's get started!
1. Confess your sin to God
Proverbs 28:13 says, "Whoever conceals their sins does not prosper, but the one who confesses and renounces them finds mercy."
This proverb shows that hiding your sin will affect you. It may take time, but eventually it will gnaw at you and you will realize you're not "prospering."  If you confess you sin to God and earnestly repent, He will show you His mercy, forgive you of the sin, and help you to keep from engaging in it again if you ask.
God is not waiting to condemn you. He already knows your sin. Proverbs 15:3 says, "The eyes of the Lord are everywhere, keeping watch on the evil and the good."  He wants you to come to Him so you can find freedom! 
2. Tell someone else!
Confessing your sin to God, who probably won't come down and tell anyone else about your transgressions, can be the easiest part. The next step comes with telling someone else. EEK!
James 5:16  states, "Therefore confess your sins to each other and pray for each other so that you may be healed. The prayer of a righteous person is powerful and effective."
This may sound terrifying. What will people think? I can guarantee you if you tell a person with a genuine relationship with God, they WILL NOT condemn you. When I've had teenagers tell me about their struggles, I cry with them, pray with them, and encourage them in any way I can. This should be the action of any Christian you confess your sin to.
When you tell someone else your struggle, you can feel the weight of your secret sin be lifted. It is such a freeing experience to tell someone about a struggle and finally get on the road to help.
Are you struggling with a secret sin? Want help? Read here and find freedom.
Click To Tweet
3. Get an Accountability Partner
Hebrews 10:24-25 declares," 24 And let us consider how we may spur one another on toward love and good deeds, 25 not giving up meeting together, as some are in the habit of doing, but encouraging one another—and all the more as you see the Day approaching."
An accountability partner is an older person, mentor, or possibly a friend, that helps you stay out of sin.It is someone that will ask you how you're doing and what else you may need. Accountability partners are GREAT because they give you a real person to "answer to."
They keep you less likely to engage in sinful behavior because you know they're going to ask you the next time you see them and you don't want to lie to them. Susan and I go more in dept about accountability partners and their importance here: Three Reasons it's Vital to have an Accountability Partner.
In Closing
Romans 13:12 states, "So let us put aside the deeds of darkness and put on the armor of light." If you are struggling with a secret sin, or any sin, I pray that God would give you the courage to confess it to Him and someone close to you. Doing these are the first steps to freedom. Step out of the darkness and put on God's light :). YOU CAN DO IT!
So let us put aside the deeds of darkness and put on the armor of light. Rom13:12
Click To Tweet
Free Resource:
At Transformed4More, our goal is to help teenage girls grow in their walk with God and provide practical ways for them to navigate through their critical teenage years. My favorite is through our FREE resource library. For this post, I made an "Overcoming Secret Sin" action plan worksheet. It puts pen to paper the ideas listed above and has a bonus section for the "what if" questions you may have. Click below to access it.

In the library, we have resources to help with dating, friendships, and spiritual growth. You can see what all it offers here. Getting the action plan worksheet will give you access to everything in the library!
Need an action plan to overcoming secret sin? Click here to access!
Click To Tweet