"High school was the greatest experience of my life."
"I'm glad I only had to do it once. I hated it."
"I just goofed off and took the easy road. I wish I had tried a little harder."
As an adult, I hear statements like these fairly often when people describe their high school experience. High school is something most everyone will go through and in today's vlog, we want to give you three practical tips to help you get the most out of it. You have to go, so why not make it a goo time that you don't look back on with regret?
After you watch the video, keep scrolling to check out a great resource!
Three tips for getting the most out of high school (without regret!). Click to read!
Click To Tweet
Resources for High School
YouthMinistry360 creates great resources for teenagers and youth leaders. If you've been following this blog for any length of time, you know I am a fan. One of my favorite resources is the devotionals that they have for each year of high school. It's 30 days and addresses issues specific to each grade level. The link below takes you to the bundle and from there, you can look at them individually.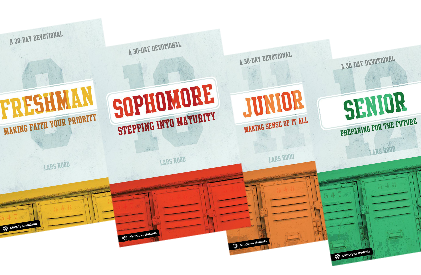 Want a 30 day devotional to start your HS year off right? Click here to learn more!
Click To Tweet
Our Book:
Many girls RUIN their high school years by getting in bad relationships. Want to know how to avoid it? Click here to check out our book, So, You Think You're Ready to Date?

I hope you found this post helpful. Please share with anyone you think will like it as well.
How do you feel about high school? Love it? Hate it? Somewhere in between?
Until next time,
Sarah 🙂
More about our Ministry
At Transformed4More, our goal is to help teenage girls grow in their walk with God and provide practical ways for them to navigate through their critical teenage years.  Besides our blog posts, we help in two main ways:
My favorite is through our FREE resource library. In our library, we also have resources to help with dating, friendships, and spiritual growth. You can see what all it offers here. You can gain access to it all by clicking here or the picture below.