"I am so nervous," Aly thought to herself. It was the night before her first day of her freshman year high school. "I'm not sure where all my classes are. There will be so many new people. What if I don't have classes with my friends?"
The beginning of a new school year is generally exciting, but freshman year generally throws in a mix of anxiety as well.
Have no fear! I have taught freshman for six years and y'all are my people! In this vlog, Susan and I discuss three tips for having a great freshman year. I was super excited to shoot this and I hope it comes through on your screen! PLEASE SHARE with anyone starting high school this year!!
I hope this video makes you feel better if you're feeling nervous!
Feeling nervous about freshman year? Click to see three tips to make it AWESOME!
Click To Tweet
Before you go, I wanted to share a resource that might help. It's no secret I am a fan of YouthMinistry360 and their amazing resources. Believe it or not, they have something specific just for freshman! Below is their 30 day devotional. I highly recommend it to start the year off right. Just click the picture to learn more.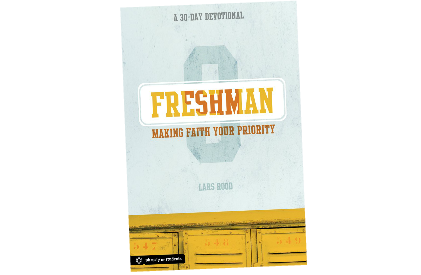 Check out this post for a great resource for high school freshman!
Click To Tweet
Our Book:
Many girls RUIN their high school years by getting in bad relationships. Want to know how to avoid it? Click here to check out our book, So, You Think You're Ready to Date.

Thanks again for watching. If you like our vlogs, be sure to subscribe to our YouTube channel!  Again, please share with anyone you know that's going to be/is a freshman :).
Love to all and here's to a great school year!
-Sarah
More about our Ministry
At Transformed4More, our goal is to help teenage girls grow in their walk with God and provide practical ways for them to navigate through their critical teenage years.  Besides our blog posts, we help in two main ways:
My favorite is through our FREE resource library. In our library, we also have resources to help with dating, friendships, and spiritual growth. You can see what all it offers here. You can gain access to it all by clicking here or the picture below.