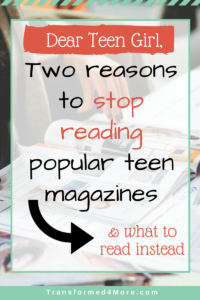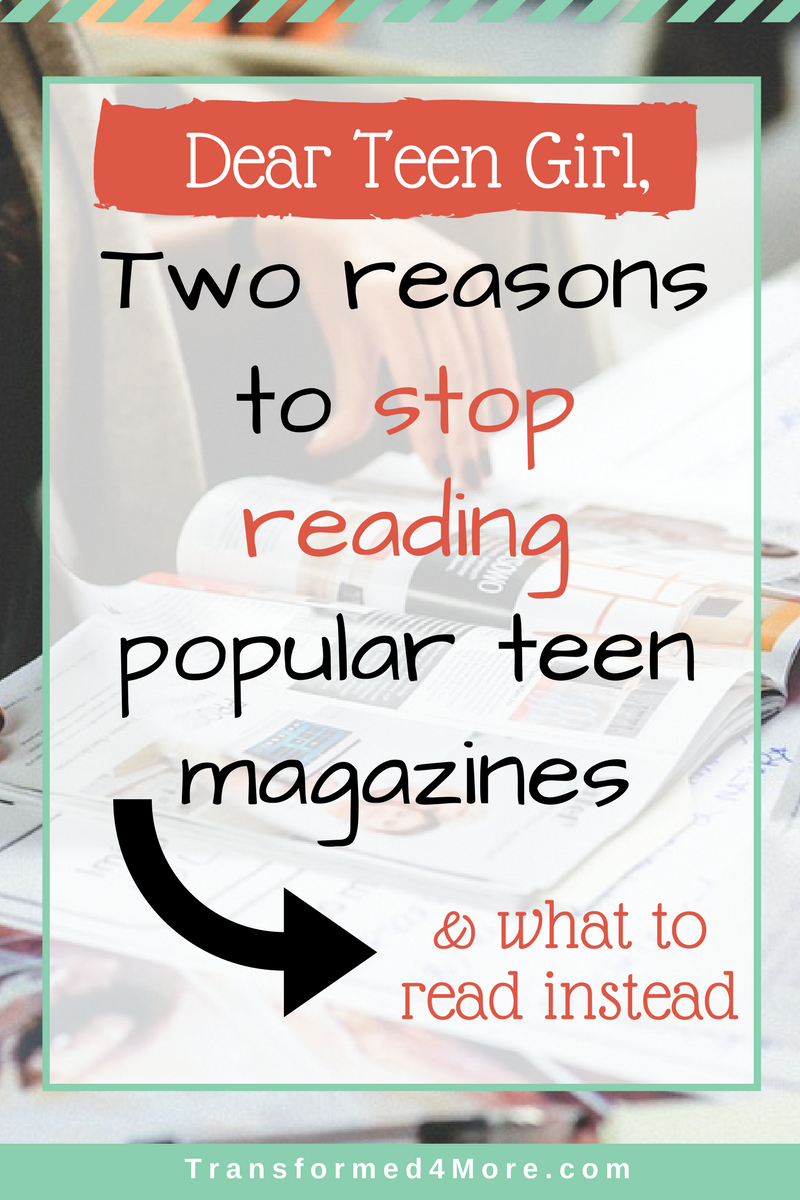 You see them frequently while standing in the checkout line. Teen magazines that claim to help you with boys, contain the latest gossip, and always have an alluring cover of someone gorgeous that's seemingly everything you wish you could be.
Maybe these types of magazines don't appeal to you, but many, MANY, teenagers I know still pick one up from at least time to time.
Confession time: I really like having money in the bank, so I didn't spend my money on these magazines, but anytime a girl had one in class or on the bus, I would flip through it, always intrigued by what I saw. Back then, these magazines were typically filled with make up tips, topics on flirting, fashion, and the latest celebrity gossip. Nothing extremely avant-garde or controversial.
However, one day, I saw a call for stories in the back of one of these popular magazines for articles for girls who were homosexual to submit their stories because the magazine wanted to "represent all girls." I never picked one up again.
Fast Forward to Today
As I scroll through my social media feed, I am frequently appalled by the headlines I see that are now in these popular teen magazines. [They are on my feed with good intentions however, it's usually parents warning other parents to keep their kids away from the trash these magazines now produce].
Two of these headlines have finally led me to write this. One I saw a few months ago hailed a "post abortion gift guide" that mentioned around 10 gifts a teenage girl could buy for her teenage friend who had recently had an abortion. This past week, one of these magazines promoted sexual deviancy by explaining in detail how to perform sodomy. I wanted to puke.
I have battled many times over writing a blog post like this because everyone always says "speak the truth in love" or "you're being too judgmental," but quite frankly, I'm a firm believer in tough love. It's been said, "Whoever whats the next generation will get them," and I am willing to fight for this next generation; the world certainly is.
I thought about titling this blog post "Two things to consider before picking up a popular teen magazine" but that's not how I feel…and if I know anything about teenagers, which I do, they do not want things sugar coated, and they can point out fake a mile away.
The truth is, I don't want you to read them at all.
That was the original title because I felt like it was "safe" and probably wouldn't offend anyone. However, this is not how I feel, and I'm not going to be fake for the sake of being "inoffensive"; the world offends me everyday. I care about what happens to this next generation and I will fight for them.
With all that said, here are two reasons to STAY COMPLETELY AWAY from popular teen magazines.
1. These magazines overwhelmingly glorify and promote sin
Just take the two titles I mentioned above. Abortion is the act of killing an unborn baby, and this magazine is promoting gifts to buy your teenage friend. The other I'm still having to get over, but as a quick reminder, sodomy is never condoned, propagated, or encouraged ANYWHERE in the Bible; it is a sexually deviant act that leads to many health problems.
These magazines also frequently promote premarital sex, "gender fluidity", homosexuality, abortion, gossip, and self above all else. There is nothing good about them.
The Bible says in Phillippians 4:8 (NIV), "Finally, brothers and sisters, whatever is true, whatever is noble, whatever is right, whatever is pure, whatever is lovely, whatever is admirable—if anything is excellent or praiseworthy—think about such things.
This is what you, and all Christians, should be filling your minds with. The things of God. Good things. Noble things. Pure things. None of which these magazines provide.
Two reasons to stop reading popular teen magazines and what to read instead.
Click To Tweet
2.  No advice these magazines give will ever fulfill you
These magazines contain enticing headlines about being prettier, sexier, and more desirable. They also provide empty promises of how to "attain happiness" and perfection.
God is the only one who can satisfy our needs. Period. Philippians 4:19 states, "And my God will meet all your needs according to the riches of his glory in Christ Jesus."
No boyfriend, amount of make up, or self indulging behavior will ever lead to lasting satisfaction. God is the only one who can do that. He created you, he knows everything about you, and has a good plan for your life. This may be hard to believe as a teenager, but I'm telling you it's true. There is seriously no better life than one lived pursuing God. The world will always leave you empty and unsatisfied. 
[If you have questions about God really fulfilling your needs, talk to an older Christian in your life, or even email me here].
What to read instead
There are great blogs and magazines out there for teenagers that are very much worth reading (you know, besides this one ;)). Each one is awesome and unique in its own way. They talk about an array of topics from beauty, femininity, relationships, fashion, and make up, to living a life for God to the fullest and becoming the best you can be. Check them out!
Magazines:
Blogs:
Click here to see better options than popular worldly teen magazines.
Click To Tweet
Most of these bloggers have books as well. You can find them in our recommended book section on our website. We are also publishing a book about teenage dating in October!!! You can sign up here to stay up to date and know as soon as it gets released!
In Closing
There are other alternatives besides worldly popular teen magazines. Please check out all of the links listed above and see if any of them are a fit for you. We are all on a mission to point the teenage generation in the right direction. We are all willing to push just as hard as the world. Please share this post to anyone that has a teenage daughter. We want them to fill their minds with good things!
Love to all,
Sarah
More about our Ministry
At Transformed4More, our goal is to help teenage girls grow in their walk with God and provide practical ways for them to navigate through their critical teenage years.  Besides our blog posts, we help in two main ways:
My favorite is through our FREE resource library. In our library, we also have resources to help with dating, friendships, and spiritual growth. You can see what all it offers here. You can gain access to it all by clicking here or the picture below.