So you did it. You broke up with someone, but the pain lingers. Sticking to the decision to break up can be difficult at times and the desire to return can strongly pull at you.
On the other hand, maybe someone broke up with you. Maybe you know it was for the best and he was a jerk anyways, but you still have a desire to go back.
Regardless of the situation, the desire to go back after a break up can be very real. In today's vlog, we discuss five ways to combat the desire to go back after a break up. You can see all of our break up posts below the video. We hope this helps and makes you smile!
More posts about break ups
Book about break ups
Chad Eastham wrote a great book called The Truth About Breaking Up, Making Up, and Moving On
. It answers virtually anything and everything you've ever wanted to know about breakups. (This is an Amazon Affiliate link which means if you purchase the book through our link, we get a small commission that helps us pay for the site. Thanks!)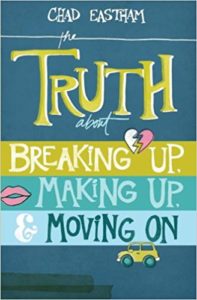 In Closing:
Is there anything we could have added to this video? Have you ever been in this situation. If you feel like talking, shoot us an e-mail!
Did you break up w/ someone but desire to return? Here are 5 ways to resist the temptation.
Click To Tweet
Also, we would love for you to join our newsletter. It gives you access to our entire library of free resources designed specifically for teens! You can see what all it offers by clicking here. You can also find and follow us on social media: Instagram, Twitter, Facebook, Pinterest, and YouTube.
Until next time,
-Sarah
P.S. If you are feeling confused about teen dating relationships, I highly recommend our book So, You Think You're Ready to Date?  It is a MUST READ for every teenage girl that is about to date or is currently dating. Click the graphic to learn more!